Imagine this...You wake up early one morning, ready take on the day. Your first activity - a nice long hot water shower to rejuvenate you. You turn on the shower and get hit by a stream of icy cold water. How does this impact the rest of your day? Not in a good way. We've been there.
A possible cause for such an incident is that your hot water system in Sydney might need replacing. It's always helpful to keep tabs on your hot water heater to avoid situations such as the ones mentioned above, where a simple malfunction can cause utter chaos in your day-to-day life.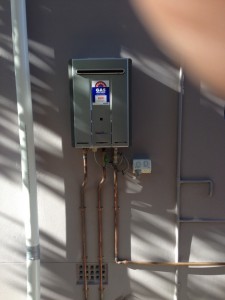 As hot water emergency plumbers in Sydney, we've found out the 6 salient factors to look out for when keeping tabs on your hot water system. They are:
Age - The older your hot water system, the more likely you may have to change it. Usually electric hot water systems function well for 10-15 years while the gas ones are good for 8-10 years. Using this as a ballpark, you can come to reasonably good conclusion on whether your hot water system needs replacing. If in doubt, give us a call on 1300 663 468 and we'd be delighted to dispatch a team within the hour to fix your problem.
Pilot light is out and/or fuse is blown - Another indicator of a hot water system that needs replacing is the pilot light being out. Even the pilot light is on and you're not getting hot water, inspect the fuse. If it's blown, that is a sure-fire indicator of the system having to be replaced.
Coloured water - Noticed the water in your hot water system being rusty brown and giving off a metallic smell? These are confirmed signs of your hot water system having reached the end of its lifecycle.
Signs of dampness or moisture - When you notice that you are not getting hot water inspect the base of your water heater for signs of dampness or moisture. If the answer is in the affirmative, it means there is a slow leak. Likewise, if there is a puddle, it's time to replace your hot water system.
Do you run out of hot water more quickly compared to earlier?
When you run the tap have you noticed that the water just doesn't reach the required temperature?
All of the above signs are positive indicators that the hot water system at your home needs replacing or that you need to contact a provider of hot water installation in Sydney. However, when in doubt, it's always better to give us a call on 1300 663 468 for a quick inspection.
Our teams are located all over Sydney and have a proven track record for our rapid one hour plumbing services.
As your 24 hours plumbers in Sydney, we know that a quick inspection can tell whether a repair would do or if the system needs to be replaced. Either way, we'll resolve the issue with minimal hassle to you and your family. Our plumbing truck comes fully equipped with the tools required to solve the problem upon arrival; even if it means replacing your entire hot water system and safely disposing of your old one!
Click hereto find out some other potential problems you may encounter with your electric hot water system.
Related Articles
Which Rheem Gas Hot Water System is Best for Your Home?
Hot Water System Not Working?
Hot Water Systems Repair Services in Sydney
Simple Steps to Preventing Blocked Drains - Insights from Plumbing Professionals