We are all guilty of taking everyday items we use for granted. And, hot water is no exception. We simply step into the shower, turn it on and 'expect' hot water to come gushing out. Until one day, you get hit by a stream of icy cold water. That's when it hits us; how much disruption can be caused in our daily lives when our hot water system fails to function as expected.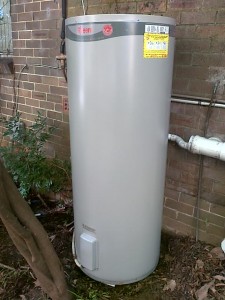 Hot water systems in Sydney are a key element of comfort in any home. We've worked with enough clients, who've faced breakdowns of hot water system in Sydney, to fully appreciate the extent of the problem and the hassle it causes in day-to-day chores. We don't want to shower in cold water. And, we don't want you to either! Although hot water systems related problems cannot be avoided completely, there are a few troubleshooting tips that you need to remember to minimise the amount of time your household suffers without hot water. Here are three of the most common problems our clients have encountered with their electric water heaters
Loss of hot water - This is the most common problem. You turn on your tap, but no hot water! The first thing you need to do is check if the water heater is getting electricity. If it is, the pilot would be properly lit. Another cause for this occurrence is a faulty valve for which it's best to call emergency plumbers in Sydney to get the matter resolved quickly.
No response from the water heater - If the hot water system is not responding at all, there is a high possibility it is not receiving power. Check the circuit breaker using a voltage meter to confirm your doubt. The problem can be fixed easily by 24 hour plumbers in  Sydney.
Bad smelling water - This is usually the result of an 'anode' rod that has begun to decay. If there is an odour, flush out the tank and clean it properly to prevent any bacterial infection.
The most important thing to do when faced with a problem relating to your hot water system is not to panic and also not to take action when unsure of what you're doing.
As emergency plumbers in Sydney, we have a significant number of clients who have tried to fix the issue themselves, without knowing what they're doing, only to be faced with higher expenses to rectify the problem. When you suspect you may have a faulty electric water heater, do the above mentioned check-ups and give us a call. Our teams are located in strategic locations in Sydney to ensure rapid, one-hour service. To make it easier, our trucks are fully equipped to even replace your hot water system in its entirety if required. We will also take away the old one to save you the hassle of disposing it. Remember, for professional hot water systems repair services in Sydney, call One Hour Plumbing on 1300 663 468 today to put your worries to rest.
Related Articles
Hot Water System Not Working?
Hot Water Systems Repair Services in Sydney
Simple Steps to Preventing Blocked Drains - Insights from Plumbing Professionals