Imagine going in for your early morning shower to kick-start your day, only to find out your hot water system is not working.. How annoying is that?
With many of our clients having gone through such experiences, today's blog post is all about providing you some tips to ensure uninterrupted hot water supply for your home here in Sydney.
Home owners are increasingly looking at professional, licensed plumbing specialists to get their hot water systems in Sydney checked and repaired. When it comes to hot water systems, Rheem service and repair is what we are called most frequently for. However, our team here at One Hour Plumbing specialises in providing gas, electric and solar hot water system repairs with Rheem, AquaMax, Rinnai and Bosch being some of the main brands that we have expertise on.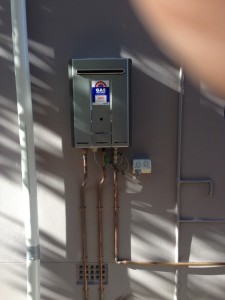 Here are 3 important tips on how to overcome your hot water system related issues:
Get the most suitable hot water system for your home
One of the main ways in having reduced repairing jobs is to actually purchase one of the above-mentioned well-renowned water systems and you wont require a hot water system repair for years! These brands are industry leaders and come with competitive warranties that cover you against unnecessary costs. Using such a hot water systems in Sydney will ensure that you would not face any unwanted system break down simply from normal use. Furthermore, these systems are designed to prevent potential water leaks and mechanical issues as long as they are maintained regularly. That's where we come in. We can help recommend the most suitable hot water system for your home and also provide regular inspection services.
Correct installation matters
Buying a reputed hot water system alone will not guarantee that you won't face repairs down the line. Yes, these systems will last much longer and are more dependable than cheaper alternatives. However, the right hot water  installation in Sydney is yet another matter that needs your attention. Once you get the system, you must also get the services of experienced, professional plumbers to install the system the correct way for you to not worry about leaks and mechanical problems. If all else fails, give us a call and we'll take care of it for you.
Regular inspections
Inspecting your hot water system in Sydney by yourself is one simple action you can take to prevent potential leakages. For example, the heating element on electric hot water heaters sometimes fail well before the water heater and replacing it in a hot water system is an easy DIY repair. Also, you could schedule regular inspection with One Hour Plumbing for peace of mind that comes from knowing you're in the safe hands of plumbing specialists with a proven track record in Sydney.
So there you have it, we've talked about how to improve your hot water systems performance and how to prevent having frequent hot water repair issues in Sydney.
Do put a comment below if you have previously come across any hot water system related issues or have any questions relating to hot water systems.