When it's time to replace your hot water system in Sydney, you will be faced with an array of choices.
Through your unit may have gone through Rheem service and repair a couple of times, at one point you would want to contact a provider of hot water installation in Sydney to get the old unit replaced.
Although you would prefer to opt for the same Rheem model you are replacing, you may find that it is obsolete. This is due to the fact that Rheem is manufactured to the highest quality standards taking into account the latest technology developments.
This handy guide will help you when it comes to selecting the most suitable Rheem gas water heater for your home. When it comes to choosing a suitable hot water system jn Sydney, here are the main four different types of features our clients have been considering:
1. Top of the line, premium model
2. Small space, but lots of water
3. Outdoor use, strong pressure
4. Affordable price, quick recovery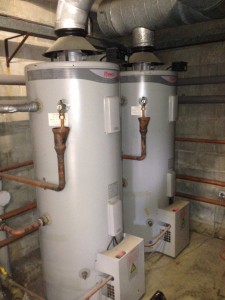 When narrowing it down to the specifics, most home owners consider these one or more of these four features when selecting a Rheem hot water system for their home. Let's look at them in detail:
1. Top of the line, premium quality
If you are one who would not settle for anything other than the best, the Rheem Stellar is your hot water system of choice. This premium model supplies 200 litres of hot water per hour with minimal energy costs. They have the fastest water recovery of all the Rheem models, and a 5 star energy rating, which means less greenhouse gas emissions. To add to this, the Stellar is also slim and streamlined in size and design.
2. Small space, but lots of water
In the event there is a limitation space, but you and your family require large quantities of hot water, fear not! You do not have to opt for a small capacity water heater. The Rheem Continuous Flow Gas water heater is a boon indeed for household that have limited space. These models can be placed both indoors and out and have a flame-safe feature as well as three temperature controllers.
3. Outdoor use, strong pressure
If you prefer to install your hot water system outside your home, water pressure can be a concern. That's why we recommend the Rheem 4 Star gas water heater as it offers strong mains water pressure to every tap in the house both upstairs and downstairs! This model comes in a range of capacities and we can help you select one which is most suitable for your home.
4. Affordable price, quick recovery
If you are looking for affordability but are worried about compromising on quality, there are two Rheem water heater models that will suit you - the Glass and the Optima. These gas hot water systems come in capacities varying from 85 litres to 170 litres. They even offer quick recovery, which is perfect for larger families. The Rheem Glass and Optima have been popular with clients for their dependability as well as affordability.
Now that you have a good idea of which hot water system in Sydney will suit your house, your hunt for the best is that much easier. If in doubt about the status of your gas hot water system or you require a replacement, our team can help you promptly. Simply call us on 1300 663 468. We're based in convenient locations all over Sydney to reach you fast and ensure you and your family don't go without hot water for long!
Related Articles
Common Problems with Electric Hot Water Systems
Hot Water System Not Working?
Hot Water Systems Repair Services in Sydney
Simple Steps to Preventing Blocked Drains - Insights from Plumbing Professionals