Want to take a guess how much heating water at home accounts for of the total energy consumption in Australia?
A whopping 25 percent!
So you can imagine what a significant portion of your monthly bills consist of; energy related expenses.
Stop for a moment and consider giving us a call on 1300 663 468 and we will send a plumbing professional to your doorstep within the hour to do a complete inspection of your hot water system.
If it is time for a replacement, look no further than the Rheem hot water storage tank to start saving energy and money!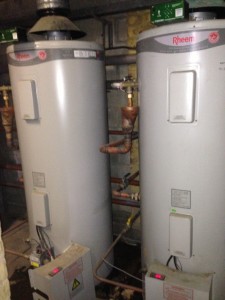 High energy consuming heaters are out
Australia is currently on a quest to reduce green house gas emissions by 51.1 million tonnes. This ambitious initiative commenced in 2010 and is expected to be fulfilled by 2020 by gradually phasing out high energy consuming hot water systems. As a result, now is your chance to select from a wide range of energy-efficient hot water systems and our team over here at One Hour Plumbing will be delighted to give you advice on a system that will work best for you and your home.
Electric or gas, which one do you choose?
The majority of Australians (more than half) use electric powered hot water systems. The downside of an electric hot water system is that is that it produces three times the greenhouse gases of gas systems.
Your energy bills, reduced
Energy efficient hot water systems not only help the environment by reducing green house emissions, they are also easier on your wallet as they contribute towards lower energy bills.
Gas hot water systems - An introduction
Gas hot water systems fall into two categories, storage and instantaneous. The primary difference between the two is in the functionality. Let's have a look:
Storage: Storage hot water systems heat water that is stored in a tank. When looking for an energy efficient model, look for the highest star rating. Storage systems usually rank between 2-5 stars.
Instantaneous: Instantaneous hot water systems, instead of storing the water, heat it as and when needed. These systems will help smaller families save money. However, if you have a larger family, due to the demand for more hot water, you may actually spend the same amount that you would have if you used a 5 star storage system.
Still love electric hot water systems?
You know what they say; old habits die hard. If you are still keen on having an electric hot water system you may want to consider the Rheem Optima which has a 5 star energy rating.
We've merely scratched the surface on the types of hot water systems. For more details feel free to skim through our website. Or, better yet, call us on 1300 663 468 to arrange a FREE inspection and sound advice.
Remember, our plumbing professionals are based in strategic locations all over Sydney and are capable of reaching your doorstep within the hour.
Related Articles
When to Change Your Hot Water System?
Which Rheem Gas Hot Water System is Best for Your Home?
Hot Water System Not Working?
Hot Water Systems Repair Services in Sydney
Simple Steps to Preventing Blocked Drains – Insights from Plumbing Professionals