As a responsible home owner, are you looking for effective ways to reduce your utility bills with minimal impact on the earth's natural resources?
Look no further. A whole world of opportunity opens up in front of you in the form of Rinnai hot water systems in Sydney.
The best part - whether yours is a two-person household or one with a large family of eight, you will easily find a hot water systems in Sydney that suit your requirements.
Read on to find out what Rinnai has to offer you in terms of suitable hot water systems that leverage on the latest in cutting edge technology.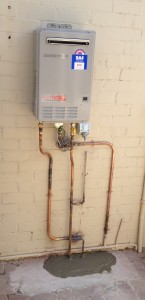 The Infinity comes in an array of sizes giving you the option of fitting one for your single-person home, or even for your business. This continuous flow system's capacity varies from 16 litres per minute all the way up to 32 litres per minute, making it the ideal device for your specific needs. Another awesome fact - Rinnai's Infinity is a continuous gas flow hot water system and comes in indoor and outdoor models.
We also foresee a drop in your bills as the Infinity has a Star energy rating from 5.6 (32 litre) up to 6.2 (16 litre)!
HOTFLO hot water systems in Sydney comes in a variety of sizes ranging from 40 litres all the way up to 400 litres! Yep, you read that right! Besides this amazing capacity, we love the HOTFLO hot water system because the foam insulation in the units exceeds Minimum Energy Performance Standards (MEPS) by at least 20%. In plain English - A significant reduction in heat loss that contributes greatly towards lowered energy bills! For added security, the HOTFLO system comes with a safety temperature shut off.
In recent times, Rinnai hot water systems in Sydney have become a preferred choice for those looking for solar heating solutions. We've installed these systems to a number of households in Sydney and its surrounding suburbs, and have got nothing but great feedback.
When it comes to solar units, very few hot water systems can match the roof-mounted Rinnai Prestige Close Coupled model. It leverages the latest technology, making it one of the most advanced models in the market today. You will have no issues with regards to space too as the hot water cylinder and the solar panel are both roof-mounted.
Rinnai split systems are available in the Sunmaster ad Prestige models and you can either select the electric or gas option. In these systems however, only the solar panel is roof-mounted and the Rinnai hot water heater itself is mounted on the ground.
Remember, Rinnai's cutting edge, energy saving solutions are just a phone call away.
Ring us on 1300 663 468 and we will dispatch a team of our plumbing professionals to your doorstep within the hour.
When it comes to energy saving hot water systems in Sydney, place your trust in Rinnai and we are sure your hot water needs will be fulfilled along with a drop in your bills!
Related Articles
When to Change Your Hot Water System?
Which Rheem Gas Hot Water System is Best for Your Home?
Hot Water System Not Working?
Hot Water Systems Repair Services in Sydney
Simple Steps to Preventing Blocked Drains - Insights from Plumbing Professionals