Imagine stepping under the shower on a winter morning only to jump out shivering because the water was too cold. Having spent several years fixing Rheem hot water systems for residential and commercial buildings, I totally understand the frustration our clients go through when their water heating systems don't work as they should.
For residents of Sydney having a hot water system is a must! A properly working hot water system in Sydney ensures that your kitchen, bathroom and laundry perform well every day. Given its significance for households as well as commercial building, I've decided to give my clients some advice on troubleshooting some of the most common problems they face with respect to their hot water system in Sydney.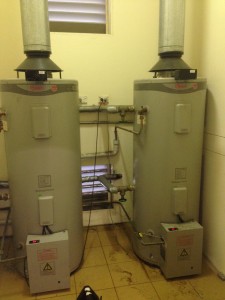 No Hot Water
Getting cold water out of the hot water tap is one of the most frequent complaints that I get. There are a number of things you can do to fix this. To begin with, check if the power supply valve or button is turned off. If there is a timer, make sure you give your heating system enough time to reheat the tank. What else? You may be using more hot water than you realise. Also ensure that you have the right capacity size of water heater. Finally get the thermostat setting correct.
Leaking Water Heater
A key indication that your Rheem heat pump water heater or gas storage water heater has failed, is when your water storage tank begins to leak continuously. While small amount of condensation making a little wet patch on the ground is nothing to worry about, if this amount increases to as much as a bucket of water, you must get the heater replaced or contact a plumber providing hot water installation in Sydney to get the problem fixed.
Temperature Too High
Do you feel that the water is hotter than it should be at the temperature you have set? Consider asking your plumber to get a temperature limiting valve installed or get the thermostat adjusted downwards. If the problem persists, replace your water heater with one that goes no higher than a limited temperature.
Getting High Electricity or Gas Bills
Keeping utility bills down is a major concern for many households that have hot water systems installed. Using high efficiency water heaters that use gas, solar or heat pumps can significantly lower your bills.
You can also trouble shoot your hot water system in Sydney by checking if your heater is heating to the optimal level, and not excessively. Make sure you are heating only as much water as you need. Installing flow control valves is also one option to reduce water usage and waste. Make sure there are no dripping or leaking hot water pipes.
If you are facing one of the above mentioned issues or want advice regarding hot water installation in Sydney that would to meet the daily needs of your home or office, our plumbing and hot water specialists might be able to help you out.
Related Articles
When to Change Your Hot Water System?
Which Rheem Gas Hot Water System is Best for Your Home?
Hot Water System Not Working?
Hot Water Systems Repair Services in Sydney
Simple Steps to Preventing Blocked Drains - Insights from Plumbing Professionals